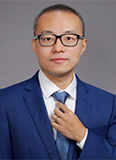 Assoc. Prof. Ran Cheng, IEEE Senior Member
Department of Computer Science and Engineering, Southern University of Science and Technology, China

IEEE Computational Intelligence Society (CIS)
Ran Cheng, IEEE Senior Member, is currently employed as an associate professor and doctoral advisor of the Department of Computer Science and Engineering of Southern University of Science and Technology. He used to be Research Fellow of Birmingham University, UK, and visiting scholar of Honda European Research Institute in Germany. Focusing on computational intelligence, he published more than 30 long articles in IEEE Transactions, cited more than 7500 times, and 13 papers were selected into ESI and highly cited. Won the IEEE Institute of Computing Intelligence Outstanding Doctoral Thesis Award (2019), IEEE TEVC Outstanding Thesis Award (2018, 2021), IEEE CIM Outstanding Thesis Award (2020), etc; He was selected into the "Top 2% Scientists in the World (2020, 2021)", "Academic Influence List of Global Scholars (2022)", etc. He is currently the editorial board member of IEEE TEVC, IEEE TAI, IEEE TCDS, etc. We have carried out cooperation with COMAC, Huawei HiSilicon, State Grid, etc., and some of the achievements have been written in the "Fourteenth Five Year Plan" research report on the development strategy of electrical science and engineering science.

Research Areas: Computational Intelligence, Evolutionary Computing, Deep Learning
Achievements and Rewards: IEEE Transactions on Evolutionary Computation, 2021; IEEE Computational Intelligence Magazine, 2020; IEEE Computational Intelligence Society (CIS) , 2019; IEEE Transactions on Evolutionary Computation, 2018.